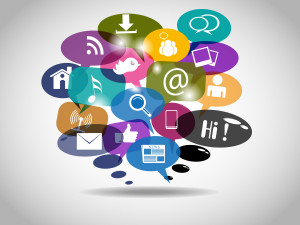 Soon after creating my site, I began to teach workshops helping people save more money.  It never fails that on the day of the event I have a thousand other things to do. Whether it's work, the kids' activities or just daily chores that need done. I always think there is something more important to do than going to the workshop.
However, after every.single.event I always leave refreshed and rejuvenated. I have so many ideas for ways to improve the site so it can help those very people even more. I get to meet people (some are readers) face to face and connect on that personal level.
I need the social interaction with IRL people!
It doesn't hurt that it's marketing to a large audience that may become loyal readers. It's not free since my time has a price. However, it's a price that's worth it to me and gets me with others who are engaged in the topic I'm sharing.
The words you share on your site are impacting someone else regardless of the niche. That valuable life experience can be packaged into a presentation to share with others to help market you AND your blog. Are you sharing it offline? Remember, your influence is not just online interaction. Influence is both online AND offline!
Here are a few outlets and ideas for public speaking:
Your Blog
Share this idea with your audience and get feedback. You can refine your "pitch" and presentation so it is the most valuable when you start speaking on the topic.
Remember, your audience will encompass so many different people. Word of mouth marketing will begin and before you know it, you will have more ideas (and potential places to speak) than you know what to do with!
Public Library
Many public libraries offer instructional learning to members. Reach out and ask them if they have an interest in your topic.
The public library was one my first speaking venues to share blog material. I just called up the activities coordinator and shared my idea. My events were scheduled on the spot. I know many who have had success doing this as well.
Corporate Offices
With an HR background, I can tell you many companies WANT to provide employees an expert speaker in various fields. Many bloggers teach "Lunch and Learn" sessions where you teach a topic during a lunch break.
If you come from CorporateWorld, or have friends who work in a Corporate setting, use those contacts to help you get in with businesses as well.
Moms Groups
Several locals Moms groups have reached out to me. Just like a PR pitch, never wait for them to find you, contact them if you're interested. Many groups will schedule their speakers out in advance. Get on their radar before the new group season begins.
Facebook or Google+
Just like your blog, ask your Facebook or Google+ contacts. Many are probably local and "knows a guy who knows a girl who's Sally runs this group or works in that business." This is your network of people!
Pricing
If you are offering private sessions, do NOT overprice yourself. I did an event a few weeks ago and was told another speaker they were considering raised their prices. The coordinator made the comment, "I doubt that we'll use them again. They have overpriced themselves."
In saying this, don't underprice yourself either. Do your research on the pricing model. Perhaps you are offering something different or more unique than others who speak on similar topics? At the end of the day, you have to find what price works to keep you getting gigs.
Media
Finally, if any of your events are open to the public, contact the local media outlets and ask them to help promote it! This exposure will help your site/business grow. It also helps you become the said "expert" on the topic at hand.
You never know when those media outlets will come to you the next time they hear about the need for an expert. In fact, I have several media spots today as a result of reaching out to connect!
Do you do public speaking on your blog's topic? What has been effective for you in finding people interested in hearing what you have to say?
Is this something you want to begin doing but aren't sure how your blog's topic can be crafted into a presentation. Share your ideas in the comments so others can help!