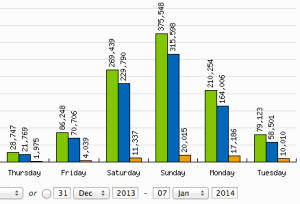 I have but one question for you.
Could your host handle one of your posts going viral? Or would your site crash and those numbers would be a fraction of what they could have been?
Also, I have another question.
How in THE world did this happen to my post? 
The second question is…I have no idea, other than the very popular 20 Meals from Costco for $150 went viral on Facebook. The start is untraceable.
The first question…probably not. I'm guessing you would have quickly hit your bandwidth and memory limits and your site would freeze up.
(Yes, this is going to be a total brag about WP Engine.)
So a few months back, Chris from Klong Designs moved me from the highly recommended Rackspace because we had a continuous string of time out errors and they said they would remove those errors if I jumped from the $150 level to the $5ooish level. That was not within my budget, so Chris researched and unearthed a great plan that fit the needs and traffic levels of $5 Dinners (and my other sites, combined), and improve site loading speeds as well. (We already implemented just about every site loading function out there, including photo downsizing, caching, plugin removal, hard coding of as much as we could, etc. and continued to have issues.)
We settled on a plan that costs $250 a month and allows for 400,ooo unique visitors each month (Note: visitors, not pageviews). This was well above my annual average of visitors, broken down by month and the cost was within reason given the services they provide. They guarantee security and no outages…basically the bandwidth I needed to keep the site running smoothly and loading quickly. They have great customer service, as well.
Bonus: They immediately had me remove 3 resource heavy plugins (Database Backup, Super Cache & ???) as they provided those services with my monthly plan. So removing those immediately helped site load time and efficiency!
How I Sailed through this post going viral.
(Seriously, I did. I spent some time optimizing the post, then I went to Austin to speak to a MOPS group, I wrote some proposals, and started working on the next in the series of these posts, which included a trip to Costco in 20 degree weather. Did you read that? I went about my business and let my host take in the traffic and I didn't have to stress about outages, crashes and explosions.)
WP Engine as my stellar host.
Optimized Ads on the Post, both desktop and mobile.
Affiliate Links to my Cookbooks, and the Favado app.
$.77 ask for each printable.
Email newsletter signups.
Other bonuses from this kind of traffic burst are that we saw trickle traffic onto many other areas of the website, as well as rapid fire growth on Facebook and Pinterest (our strongest social media channels already.) The post made it's way onto the Pinterest popular page too.
As you can see from the numbers in the image above, I easily passed my "base rate" of 400,000 unique visitors. The viral post overshot that number by over double…so this is where things get interesting and where decisions had to be made. To guarantee uninterrupted service to the site past 400,000 unique visitors, my plan has a built in "additional fee" of $1 per 1,000 unique visitors. So this viral post will cost me $400+ in additional hosting fees.
Well, we all know what ad network revenue looks like in January…like almost nothing, right? Ad agencies haven't set their budgets yet for the year, so there are few ads and they are all low paying. If this post had gone viral in November, I might be able to retire now. (No, not really.) I had to quickly make decisions and further monetize the post to offset this $400+ in new hosting fees.
While the ministry side of me wants to help people and thought about letting it ride and swallowing the costs, the business side of me knows that I shouldn't lose money on a viral post. With WP Engine's help, this post was able to reach millions. Literally. And with a little Digi finesse, I was able to make up for the costs of this traffic surge by optimizing and monetizing the post the best and most appropriate ways.
I help people, I don't lose money doing it. Everybody wins.
And now I'm ready for the next time…
Are you ready for something like this?! Would your host be able to handle it?!
(If not, we highly recommend WP Engine for those looking to change hosts.)
Join us at the 2014 Digi event in San Diego in June and learn more than you'll ever need to know about monetizing a blog post and growing your online business.
This post contains links to affiliates.