As we head into Q2 of 2014 (where is the time going y'all?!), it's time to take a few minutes to look back at our goals for Q1 and make updates and new goals for Q2, as well as think about other projects or content campaigns for later in the year and start making plans for those now.
The best way to do this without getting overwhelmed is to work through a checklist so you can focus on what's important that day, that week and that month. Seeing the big picture will help you decide on what tasks need to get accomplished on a daily, weekly, monthly and quarterly basis.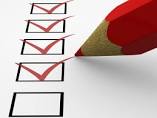 Below is a basic checklist for your small online business:
Annual
1. Write/Update your Business Plan.
Revise Marketing Plan
Complete a SWOT Analysis
Strengths, Weakness, Opportunities, Threats
Staffing Plan (if applicable)
2. Income Forecast
Review prior year income.
Identify new income stream(s).
3. Forecast Expenses and Taxes
Review prior year expenses.
Identify additional expenses for new year.
Set reminders for quarterly tax payments: January 15, April 15, June 15, September 15.
4. Create 'SMART' Goals for each quarter.
6. Professional Development and Networking
Identify blogging events to attend and cost or sponsorship strategy. ie Digital CoLab's 2014 Event!
Identify Local Social Media Club or Blogger meetings and place on calendar.
Attend Small Business Workshop in your area.
Quarterly
1. Accounting
2. Analyze & Review Revenue Sources
Optimize those channels that have high performance.
Improve or eliminate poor performance.
Create an action plan with weekly goals to optimize and improve performance.
3. Forecast Income and Expenses
Will expenses exceed tax estimate? If needed, make adjustments to quarterly tax payments.
4. Mastermind Group Meeting
Discuss new ideas or developments.
Hold one another accountable.
5. Content Marketing Plan
Make adjustments to optimize traffic growth & engagement.
List potential marketing channels.
Monthly
1. Monitor and Adjust Quarterly Goals
2. Accounting
Reconcile bank statements and update the books.
3. Quarterly Tax Payment
Set aside 27-28% of monthly income to pay when due.
4. Staff and Team Communication
Communicate with team on urgent matters, upcoming work matters.
Verify timely submission and payment of invoices.
Discuss marketing plan changes.
Discuss affiliate performance.
Weekly
1. Set up weekly goals at the start of each week.
2. Daily Tasks
List top objectives for week.
Ensure all tasks are related to goals.
Email management.
3.  Accounting
4. Legal/Admin
Sign contracts and documents.
What other areas of small business growth and development do you do on a weekly, monthly, quarterly and annual basis?