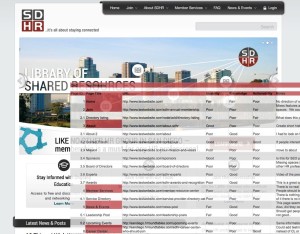 Let the team from Time to Get Awesome audit your site and help you identify your strong areas, as well as ways to optimize the weak sections of your site. Before you freak out about the word "audit," this is not the IRS. They are here to help you grow your business by identifying weak spots and offering practical and simple ways to strengthen those areas. Are you willing to let them dive deep into your site to help it grow, and to help you earn more revenue?
A Content Audit consists of:
Analytics Review – We dig into your Google Analytics to discover the best ways to grow and improve your business, including a look at top revenue earning pages and how to better optimize those pages. Basically, we will help you make more money with your existing content and help you understand which content is effective for your website.
Quantitative and Qualitative Audit – Assessment of the usability, quality, and actionability of the top 25 pages of your website. This will reveal what changes, additions, or improvements to make to your website for increased traffic, engagement, and revenue. Discover new opportunities to grow and monetize your website.
Awesomes – We will break down the top actionable steps to improve your website. Discover problems that may be costing you money and get actionable steps to improve your site immediately.
30 Minute Phone Consultation – Making sure you understand the audit and how to act on it is incredibly important to us. When the audit is done, we will schedule a 30-minute phone call to walk you through it and make sure you understand how we came to our conclusions and how you can make your website more awesome!
Time to Get Awesome have offered an exclusive price of $499 for this content audit. This price is only available through Digital CoLab for a limited period of time.
[wp_eStore_buy_now_button id=4]
"After my content audit with Time to Get Awesome, I learned that my site received a google penalty. I never would have realized that was the reason I had a decline in search traffic and adsense revenue. After making the suggestions in my audit report, I have noticed an uptick in traffic and adsense revenue!
The tools and processes they use to review your content are up-to-date and the reports are the reports understandable. I have several more updates to implement from the tips I received which will make my content more profitable."
~ Andrea Deckard, Savings Lifestyle
[wp_eStore_buy_now_button id=4]
"When Colin first asked if he could do a Content Audit on $5 Dinners, I was somewhat reluctant…mostly because I was scared about what they would unearth and what changes I would need to make. But at the same time, I knew that I could do better at engaging followers and improving things. So I agreed.
After getting the results from the audit, I was completely blown away by the attention to detail, the thorough look at all corners of my website, but mostly impressed by the specific tasks and takeaways from the audit. Once I was able to swallow the "you've been losing this much revenue" pill, I'm working hard at making improvements based on Colin's teams recommendations."
~ Erin Chase, $5 Dinners
The September special is no longer available. All discounts have been taken. Thanks!
[wp_eStore_buy_now_button id=4]